Below is the press release we have sent out following the fabulous Annual Fundraiser day we had on the 5th October.
We thought we'd share it with you on our site at the same time, but will be doing a full, and more informal, report in due course.



AVON ROACH PROJECT - AVON FUNDRAISER PRESS RELEASE.
| | | |
| --- | --- | --- |
| | | |
| | Match winner Kevin Dyer receives the well earned trophy from Trevor. | |

Saturday 5th October saw the running of the fifth annual Avon Fundraiser Event held jointly by The Avon Roach Project and the
Barbel Society Research and Conservation department, between whom all the proceeds are split to help fund the ongoing needs
and running costs of the Roach Project and much needed partnership run Avon based habitat restoration and enhancement projects;
many of these in partnership with our great mates at the EA.

The day consisted of a friendly fishing match followed by a three course meal at a local country hotel. This was then followed by an
auction of some sixty fabulous lots, from exclusive guided and guest fishing days, signed books and DVD's, rods, reels, pictures and
an exclusive centrepin made and engraved especially for this event. There was also a special section of lots donated by avid Roach Project
supporter and good friend Chris Yates which included signed books, a reel and a special float once owned and used by the
legendary Bernard Venables.


The fishing match is won with the best specimen of any species caught on the day, and this year that fish was a 14lb 1oz barbel taken
from a classic swim on a meatball by regular supporter Kevin Dyer.

Perhaps even more satisfying was the appearance of small roach on the catch return sheet for the first time in the five year history of the event.

The day was attended by seventy three people and raised a staggering six thousand pounds.

Trevor Harrop 'Avon Roach Project' said:-

The generosity shown at our annual fundraiser is almost beyond words; and while we are regularly reminded that we have countrywide
support for our project, we are almost moved to tears at the open-handedness, kindness, support, and as importantly, belief we are
shown at these events.

We have to pinch ourselves sometimes, when we remember that it all started with a tank and a couple of nutcases with a bonkers
idea of reinstating roach into the Avon, then to be standing in front of a hall full of people, all showing such boundless support, with
some having caught roach from the river for the first time in decades. So, maybe, just maybe, we are actually making a difference.





Trevor making his end of evening speech, giving an overview of Roach Project
activities and thanking everyone for attending.


The money raised at these functions removes the financial burden that projects such as ours could be severely inhibited by and allows
us to just get on with growing roach for the Hampshire Avon, a river that has enriched the lives of so many down the generations and can
hopefully do so for future generations.

And, the ongoing habitat reinstatement and enhancement projects are a vital and priceless element in the continuing recovery of our river.
The more fry and juvenile protection we can create the better, and not only for our roach, but for all species of fish.

We'd like to thank everyone for their support, both at the event and up and down the country, who donate financially or with their physical help,
or who simply write and email us with wonderful messages of support and encouragement.

| | | |
| --- | --- | --- |
| Cormorants – Biodiversity in Danger | March 2013 | |
Cormorants – Biodiversity in Danger
What a week! Following a joint press release from the Avon Roach Project and the Angling Trust regarding the Cormorant petition handover,
the BBC called and asked if they could come down and film Trevor fishing on the Avon on Tuesday for a piece to be shown on BBC Breakfast
on the Wednesday 22nd Feb, when we would all be travelling to London to hand over the petition to the Minister.


Fortunately Trevor was fishing that day with Hugh Miles and Martin Salter. The link to the piece is below. Judge for yourselves, but we were
delighted at how balanced it was and that we were able to put our points across.
http://www.bbc.co.uk/news/science-environment-17123858

Wednesday came and we met the Minister Richard Benyon at 11-30am outside Defra headquarters in central London. We took our places
and posed for the pictures, then Trevor was put forward to say a few words to the Minister about the cormorant problem in this country with
contributions from Chris Tarrant, Peter Pleydell-Bouverie, Hugh Miles and Martin Salter.




From left to right:- Back Row - Mark Owen (Angling Trust), Hugh Miles, Feargal Sharkey (Singer and UK Music Boss),
Charles Walker (Chairman of the All-Party Parliamentary Group on Angling),
Richard Benyon MP (Minister for Natural Environment and Fisheries), Chris Tarrant, Trevor Harrop, Peter Pleydell-Bouverie,
Peter Orchard and Jim Wreglesworth. Front Row - John Slader (Salmon & Trout Association),
Budgie Price and Martin Salter (Angling Trust)


Just as the growing support for the Avon Roach Project itself has astounded us, and continues to do so, so has the overwhelming
support for our campaign and petition to have the cormorant licensing law changed.

We would like to thank everyone who has signed the petition and everyone who gave up their time to come along and support us
at the handover in London, and in particular, Martin Salter of the Angling Trust who has been instrumental in getting the meeting and
handover to happen.

The announcement of the review of the cormorant licensing regime is to be made in the summer of 2012, so in the meantime we are
going to continue to collect petition signatures both on-line at:-

http://www.gopetition.com/petitions/cormorants-biodiversity-in-danger.html

and through the return of the hard copies in all the fishing tackle shops throughout the country.

We are extremely optimistic that a positive change to the current cormorant licensing law will be announced in the summer.

We have worked extremely hard and have already achieved an enormous amount, but for now the battle goes on and the pressure needs to be kept up.


O
n Saturday 1st October we held the third of our annual fundraising events, organised in partnership with the Barbel Society,
with whom we equally split the proceeds. It was pretty much a repeat of previous years, including an atmosphere of friendliness
and generosity that needed to be experienced to be truly appreciated.

It started with a friendly match to the death on the Avon, which as in previous years lived up to its reputation of having seen better
days, with an urgent need for some tender loving care and attention. Notwithstanding a struggling river living off its historical reputation,
the conditions for catching fish were stacked against us all, with low clear water, plus the hottest October day since the dawn of time.
So, the stalls were set for a chub, maybe a dozy, stupid or perhaps suicidal barbel, or even a lucky perch.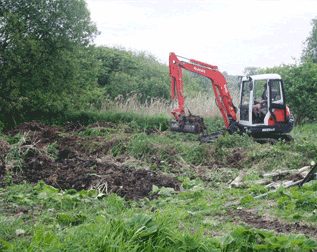 Through the generosity of you, our supporters, the project has gone from a couple of nutcases with a far-fetched, possibly implausible pipe-dream to a tantalising prospect we can all truly believe in. And as the years rattle by and the financial burden continues to be met, this allows us to concentrate on trying to make the dream a reality. No more string, elastic bands, sticky-backed plastic, crossed fingers and compromise. We are now able to trundle on unencumbered, knowing we carry the hopes of more people than we ever dreamt we would.
It turned out that chub seemed to be the only ones obliging on the day, and the match was won with a beauty of six pounds eight ounces by Charlie Duffy.

The evening got going at The Tyrrells Ford Country Inn with a mingle and a chat with fellow supporters at the bar followed by a fabulous three course dinner. This was followed by an amazing auction of a breathtakingly wide range of lots such as rods – some old, some new and some hand built, reels – again some old, some new and one of which was even inscribed especially for the event, fishing days and memberships on the Avon, Kennet, Wylye and many more, signed pictures, books and DVDs, Manchester United tickets, an original framed hand tied mayfly by Richard Walker with an accompanying picture of RW, and so the list goes on. Again, you needed to have been there to really appreciate the value and significance, and uniqueness and exclusivity of some of the auction lots.

The evening was rounded off with a riotous raffle of bottles and bait droppers, books and bait boxes. Wonderful fun.

Just as previous years we were completely blown away by the incredible generosity of all those who came along. While the organisation and worry of it all for the weeks and months beforehand are exhausting and fraught, the event itself is an absolute joy to be a part of, and worth every ounce of anxiety and insomnia. We can't wait to get one going for next year.

The food, service and general good feeling at The Tyrrells Ford Country Inn was once again faultless. Sara and Mark did us proud yet again.

It was great to meet up with the regulars to these doo's and lovely to welcome the newcomers who, by the time the first glass was raised were well and truly enrolled. And I know we have said it before, but if only the atmosphere could be bottled.

Despite the heat on the day, not withstanding the nervous exhaustion
of staging the event, we are well recovered and able to look back on the day with
more than a little pride. We have mentioned before that we sometimes get lost
in our own little world with this project; sploshing about in the


Charlie Duffy (Right)
receiving the well earned 2011 trophy from Trev.
cold, mud, frost, snow and the rain, teetering sometimes on precipitous river banks with spawning boards on ropes, trying to secure them to spindly little twigs that even the most foolhardy squirrel would trust to support his weight, risking life and sanity through all the seasons of the year just trying to secure a future for the Avon Roach. And as the Roach Project, especially, grows, not to mention the
great work of the Barbel Society, and the years stack up, funding it all could become an ever increasing pain in the bum, but events such as the one we have enjoyed together make even this an absolute pleasure and indeed honour, thanks to the growing number of supporters we are increasingly reminded we have.

We were all pretty aware that this year might be a real acid test of the popularity of our little bash, especially when you take into account the poor economic climate and the general condition of our countries rivers. However, it appeared that you are as fond of us as we are of you, and we are delighted to be able to report that through your astounding generosity this years' event raised a remarkable £5,350.

Funding such as this now allows us to move beyond the sticky-back plastic, toilet rolls and elastic band style of project construction and into a state where we can afford the materials we need for the job. We can hire diggers, buy our fence posts, netting and timber, and ensure the best chance of achieving our objective without having to compromise.


And this is what we are all investing in - Avon Roach. These are a few of the roach we have grown from spawn collected three and a half years ago and kept back to raise in a tank at Project HQ. Our 'Toddlers', as we like to refer to them, have already rewarded us by spawning in the tank earlier this year, so we must be doing something right... Maybe it's the occasional treat of red maggots and casters, the bed-time story, the promise of eventually having pecs as big as Wayne Rooney's ears and a whole river valley to themselves that added to their contentment.
We are delighted and extremely proud to be able to tell you all that we won the 'Fred J Taylor Environmental Stewardship Award' for 2011.
This is awarded by the Angling Trust in association with the CLA Game Fair, which this year was held at Blenheim Palace. We went along in
July to collect our trophy and, more importantly for the project, a cheque for a thousand pounds.

To have our project chosen above all the other applicants in the country is really uplifting. It was also nice to get a slap on the back of appreciation and recognition. The eye of the storm in a project such as this can be a strange and sometimes quite lonely place, especially when you're expected to have all the answers, but know that there aren't yet as many answers as there are questions.


As the many of you who know us realise, we are constantly trying to come up with ways of funding our aspirations, from organising our annual fundraising event, our float-making escapades, sponsored events, and trying to rob you lot of your loose change, beer tokens and pocket money, so to receive this award and windfall was a real shot in the arm for us.

While we are completely engulfed in this project; rolling our sleeves up for it daily, freezing to the marrow for it in winter, getting soaked through for it in spring and autumn, sweating like swamp donkeys for it in summer and banging on like demented politicians, pub landlords and half baked car insurance salesmen the rest of the time, the underlying pain in the bum is, and always will be, the funding of it all and our press releases statement, we think, just about sums it up...

'We are delighted and honoured to receive the Fred J Taylor award. Funding is always the proverbial thorn in the side of any project such as ours and this will help us enormously in our efforts to return a self sustaining population of one of the country's most enigmatic species of fish to one of the country's most endearing rivers. An Avon without roach is an Avon that has lost some of its soul. And, to contemplate this is simply unthinkable.'

We would like to thank a couple of our great friends who helped us in our application for the award, Hugh Miles who hurriedly finished a short version of a film he is making of the project in time for us to send a copy with our application, and Chris Yates, who wrote us a lovely testimonial. He even got it to me via email, would you believe. And, in plenty of time..... Wonders never cease.
| | | |
| --- | --- | --- |
| | The 2010 Annual Fundrasing Event | |
Well, what a day, and what a doo; and what a GREAT bunch of people.

While we strive to make the difference we truly believe we can, it is only with the open-handedness and support of others that we have even the slightest chance of doing so. We can only peddle as hard as we are able, but without the wheels being oiled by the amazingly generous folk who continue to show the kind of boundless benevolence as was shown at this years' annual fund raising event, we wouldn't stand a chance of achieving anywhere near the success we hope to. And while we believe passionately in what we're doing, we are never quite sure, and sometimes need reassurance, about what the rest of the world thinks; especially when we are asking for a small portion of it to cough up good money and time to support us.

It is always a great worry organising a 'bash' such as this, and we get more and more fretful (on an incrementally upwards only scale) the closer we get to the actual day. However, not a single drop of angst needed to be spilt as the attendees made this year's doo a truly wonderful and memorable occasion. Our collective sighs of relief could probably be heard from space.

So, we are delighted to be able to boast that this year's Avon fundraiser was an absolutely, unadulterated, outrageous success. We are also delighted to be able to report that this years' was even more successful than last. Not just in terms of bums on seats, nor indeed the sum raised, hefty though that was, but for the aura of camaraderie which permeated the whole day and the feeling of goodwill which only comes from a group united behind a cause. Once again we were blown away by everyone's support.


Pete Reading doing his best to describe the somewhat unusual lot of a flask of vintage 1973 Redmire water donated by Chris Yates, together with the hand written certificate of authentication, complete with the brown smear where Chris had wiped away a blob of chocolate cake he'd dropped on it as he was writing it.

The whole event was a repeat of last years', with a friendly fishing match to the death (which is more of a chat and a meet up with like-minded folk really) followed by a delightful three course meal, an auction and a raffle.

Sara, our hostess at the Tyrrell's Ford Country Inn, did us proud once again with an absolutely fantastic menu, faultless service and friendly atmosphere. The minted lamb was the finest this side of the universe.

Once again the fishing let us down with the low, clear river making conditions difficult, but at least a few were caught. As last year, the match was won with a chub, and this years' was a clonker of five pounds fourteen ounces which fell to Matthew Price.

Even though the fishing was generally rubbish, we were all thankful for the beautiful weather, and for those lucky enough to have spotted it, the graceful presence of a young Osprey heading south. The mobbing crows
did a good job of betraying its presence.
Simply breathtaking!

As mentioned earlier, organising the doo has once again been a little nerve racking. As with any event, you never quite know how things will pan out. However, we are delighted with the outcome, as through the eye watering generosity of those who came along, the event raised just shy of £5,500. The proceeds will again be divided equally between the Avon Roach Project and the Barbel Society's Research and Conservation Fund.

The auction lots were once again breathtaking, with fishing on the Windrush, Royalty, East Mills, and Redmire Pool. There were rods, reels, and all manner of other fishing stuff, Manchester United tickets, with dinner and a chance to chat with ex-players; there were books, floats, and even a 'Cooper' Bream, which fetched just shy of six hundred quid. Amazing! Even more amazing is that another one of Trev's pictures got past the reserve of a quid and a promise not to mock the buyer.

Trevor presenting match winner Mattew Price with
the coveted trophy.

Seriously though, it is quite impossible to put into words how much this means to us, so we won't go on trying, but we would like to thank everyone who came along on the day, plus all the generous folk who donated the lots which enabled the whole auction idea to come to such magnificent fruition.

Again we say, if only the atmosphere could have been bottled. What a day, what a doo, what an event, what a fantastic bunch of friends we have.

Without doubt, something quite remarkable is beginning to happen in the valley. What with The Strategic Framework for Restoration of the River Avon System now under deliberation, the termination of the EA weed cut and the Higher Level Stewardship grants helping land owners finance the much-needed restoration of the flood meadows, providing vital habitat for the river's inhabitants. Right now is the best chance that the Avon is ever likely to get of returning to something approaching itsformer glory. We are certain that the Roach Project couldn't be happening at a better point in time.

The Barbel Society share of the funds raised is earmarked for various habitat restoration and enhancement schemes on the Avon which will all be reported on their web site at www.barbelsociety.co.uk

The Avon Roach Project share will be taken up on excavating and netting (anti avian) the six stews we have been given at Bickton, plus the remainder at Longford. As is the way with our web site, there will be a blow by blow account by way of the usual series of pictures and captions telling the before, during and after story of all this work.If you didn't come along this year, but would like to be added to the list of invitees for future events, please let us have your details by emailing us through this web site. Out of loyalty, this year's attendees will be given first refusal on future invitations, but if there are any places available, or if we decide that the potential uptake is worthy of increasing the size of the event, then putting your name and details on the list will ensure you're in with a chance of being included.

| | | |
| --- | --- | --- |
| | The 2010 Annual Fundrasing Event | |
We can now report on the first of our annual fund raising events which took place on 3rd October 2009.
Well, what a doo.

The day comprised of a friendly match to the death on the Somerley stretch of the Avon, followed by a delightful three coarse meal at the
Tyrrells Ford Country Inn at Avon. After the meal we had an amazing auction followed by a raffle draw.
We decided the winner of the match would be the person with the best specimen caught on the day; so a three pound roach gets it over a
four pound chub, a two pound gudgeon gets it over a five pound barbel, a seven pound dace gets it over a twenty stone carp angler and so on.

We joined forces in organising and hosting the event as equal partners with the Research and Conservation arm of the Barbel Society, ably
represented by Pete Reading, fellow Roach Club member, avid Roach Project supporter and extra pair of hands whenever we have called on him. Interestingly, on the day, and with almost forty anglers fishing, there wasn't a single barbel or roach caught. The match was won by Chris Bush
with a chub of five pounds four ounces, which was slightly disappointing, but not a complete surprise, and despite the river not being in the best
of moods on the day, perhaps the result confirms the necessity of projects such as ours.

Trevor presenting the trophy to match winner Chris Ball.

Forty five invitees attended the evening and we can proudly proclaim it as a complete success. There was the perfect, magical blend of people in the room, all with the common aim of giving support. It was as though everyone knew each other, even though the majority had never met before. It was a joy to be a part of.

The funding of the project was always going to be the proverbial pain in the bum, but with the generosity and support from an ever increasing number of folk, that burden is being eased considerably, allowing us to concentrate on the matter of raising roach for the Avon.

The event raised a total of £4268, which will be split between the BS and ourselves.
This straight away removes the burden and worry of trying to find the money to net the remaining lagoons at Longford to prevent the residents of the local heronry from helping themselves to our babies, which has to be done this winter ready for when we move the current stock in spring of 2010. It will also, as time goes on, ease the financial burden of the day to day funding. We can now afford, at least in the short term, to buy what we need rather than have to try to make it from sticky back plastic, coat hangers, corn flake boxes and washing up bottles...... Or worse, try and
nick it from you lot.

In all seriousness, once the project is fully funded, who knows, we may even be able to contribute to, or even fund our own, habitat restoration projects on the Avon. Then we really would be putting your money where our mouth is. Roll on that day, we say. Back to reality for now though. That pipe-dream is a long way off, but certainly not unattainable, especially with the support and increased awareness of the problem being shown now.


Just a few of the ruffians who attended and made it a wonderfully memorable evening.
The generosity of some of the auction lot donors, and indeed the bidders on the night, was absolutely eye watering; with lots such as a new 15' Hardy Marksman float rod, a Match Aerial centrepin reel, a weekend fishing at the famous Redmire Pool, plus a whole heap of other rods, reels, fishing days, books, pictures and so on. Some mug even paid a pretty penny for a print of one of Trevor's own scribblings – the 'Peregrine Falcon' that wasmistaken for a chicken and nicknamed 'Foghorn Leghorn' (Only kidding Jim). See for yourselves on Trevor's web site www.avondalegallery.com

Not only through the recent fund raising event, but also, and perhaps especially, through this web site, we have received some outstanding support and overwhelming personal contributions, and we would like to just take a little space here to list some of you, as it is only through the continued generosity and open-handedness of folk such as you that projects such as ours have any chance of success.

Richard Middleton of Ringwood Tackle in Ringwood and Nigel Gray of Davis Tackle in Christchurch have shown an outrageous level of munificence above and beyond anything we could have hoped for, and just continue to do so. Then there are the personal pocket dippers, and in no particular order, but worthy of a two pound gudgeon any day, are Colin Gilson, Stuart Brown, Bob Gibbs, Mr. and Mrs. Harvey, plus the angling clubs, syndicates and organisations such as Longford Estate, the Red Spinners Angling Society, Christchurch Angling Club, Ringwood and District Anglers Association.
Such was the success of this year's event, we are going to organise a replica next year. It's just about the best doo we have ever attended. If only the wonderful atmosphere could have been bottled.

The latest news, as it stands at the moment (July 2009), is the web site itself, being that we have only just launched it. However, we are planning events that we will be reporting on later in the summer and autumn; one of which is the Avon Roach Project and Barbel Society Annual Fund Raising Event.
In collaboration with the BS we have organised a day of fishing on the Avon followed by an evening meal and auction, at which it is hoped we can raise some much needed funds for the project. All proceeds on the day are to be split equally between the two organisations.
It should be a great day, with many generous people having donated some wonderful lots to go under the hammer, with rods and reels and even a weekend fishing at the famous Redmire Pool. It is going to be attended by some of the great and the good of angling, and us, the great unwashed. If successful, we will hold it annually which will go some way to easing the financial burden the project is continually under.